In 2017 we received news:
Congratulations, 2Infinity Rottweilers LLC!
Wag! is honored to present you with the Top Rottweiler Breeder Award of 2018. Yip yip hooray!
Wag! has analyzed top Rottweiler breeders and cross-referenced positive social mention data with top analytics platforms. Your site was a clear winner with U.S. pet owners over the last 12 months. For context, Wag! awards breeders with best-in-class online buzz, content, visuals, and most importantly, a strong cause and devotion toward their breed of dogs.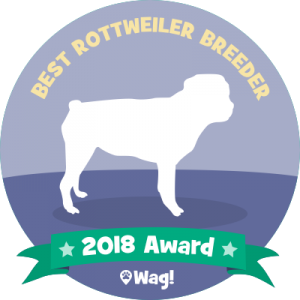 (We received this also in 2017, but are now noticing some positive feedback from this award.  Thanks Everyone)