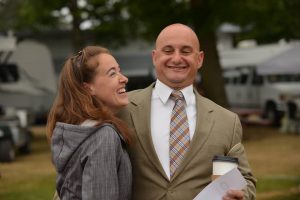 I (Christina Ulberg) started my passion with the breed during high school. I was fortunate enough to have parents that allowed the next member of the family at that time to be a Rottweiler by the name of "Bud" Budweiser Von Midknight Sun. He was honestly like the brother I never had. Bud & I excelled in obedience classes, taking a first place at our obedience graduation, mind you it is nothing like what I compete in today. During college I had to leave him with my parents, and to my surprise he was feed and treated better than I was when I lived at the house. Upon my graduation my mother said, sorry he is mine.
After "Bud" passed away from cancer, my mother and I decided we both needed a Rottweiler puppy to fill that void, thinking about showing and completely uneducated; we located a breeder in Washington and brought home two fluffy puppies.
I choose the chubby slow one, and showed "Diago", Don Diago Vom Neuenschloss in the states and Canada starting in 2004.  With the help and knowledge of professional handlers I developed great skills for the sport. Today I campaign multiple breeds, not just Rottweilers, and work on rankings in both the USA and Canada.  I am proud to have earned a Best Brace in Specialty & Show with two of our girls, You Know & Bee Bee.  I have also added obedience and rally titles to not just Rottweilers; Viszlas, Irish Setters, and Golden Retrievers to name a few.  To name a few of the obedience and rally titles I have added are: RN, RA, RE, BN, CD, CS, and CI.  I have judged junior showmanship in Canada and found it truly delightful.

My husband (David Bert) starting showing a compilation of our children in the states and Canada starting around 2006, after he saw how much fun I was having.  He also gleaned knowledge of professional handlers as he refined his skills. His favorite moment with Diago was when he received Best of Breed over multiple "ranked" specials in Canada.  His heart warming moment was with Hush when they won Best of Opposite Sex at the National Specialty in Canada in 2016, multiple specials that were "ranked" in Canada.  He is the Brace master and can find ways to develop some really impressive brace teams and shows them with confidence and style, earning group placements here in the states, as well as in Canada.
My husband and I have great respect for handlers, breeders, and beloved owners that compete consistently in both the US and Canada.
We are proud members of the American Rottweiler Club (ARC) which is the parent club for Rottweilers associated with American Kennel Club (AKC).  We are a code of ethics breeder and required to adhere to mandatory practices as defined by ARC.
We are also members of the Canadian Kennel Club (CKC).
(rev. 1/2020)