BIS Brace/Multi BOS Am Ptd(8)/Can Ptd(9) Parisans The Bee Bee of 2Infinity RN CGC
As 2013 seems to keep having sad surprises for many, Wednesday March 13, 2013 2Infinity said goodbye to our Princess and Sole Mate … BIS Brace/Multi BOX Am/Ptd (8)/Can Ptd (9) Parisans The Bee Bee of 2Infinity RN CGC. Or known too many as The Bee, Bee Bee, B, or Princess/Queen. Bee will be missed by all her house brothers/sisters; You Know especially has lost her Brace companion.
She was our first girl and became my (Christina) shadow in every activity and would always sleep right next to me regardless what was going on, even in a minivan in Montana. We were so close to being a Champion and had so many other things planned. Eleanor is now trying to step up and has amazingly started to do some of Bee's odd traits.
During an emergency surgery in November 2012 to save her life due to Pyometra she was diagnosed with chronic liver disease.  She had shown no signs or symptoms of liver disease prior to the date of discovery.  With a special diet and supplements we gained 4 ½ months of amazing time with her.  She milked in all the spoils and learned she was a true princess.
Off to Rainbow Bridge you go…..you have touched so many hearts in your short time here with us, it is just unfair that you had to go so soon.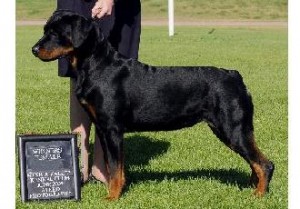 Letters & Numbers Litter
Named after the Bee toy Ozzie carries around
Titles
RN: Rally Novice Certificate issued: 11/19/2010
CGC: Mount Rainier Working Dog Club,
Redmond, WA: 08/27/2011
Rally: Novice
08/27/2010 Mount Rainier Working Dog Club, Redmond, WA. –
Mr Richard J Lewis – 96 (3rd)
11/18/2010 Umpqua Kennel Club Inc, Roseburg, OR. –
Mrs Carolyn S Wray – 93.0 (4th)
11/19/2010 Umpqua Kennel Club Inc, Roseburg, OR. –
Mrs Chris A Primmer – 98.0
11/19/2010 Rally Novice – RN
AKC Shows & Points:
06/25/2011 Clackamas Kennel Club Inc., Canby, OR.
Mr Richard Lashbrook, WB – 1 pt
07/01/2011 Mt. Bachelor Kennel Club, Redmond, OR.
Mr William P Shelton, WB/BOS – 1 pt
(BB CH Parisasn Helo of RiverRidge)
07/02/2011 Mt. Bachelor Kennel Club, Redmond, OR.
Mr W Everett Dean Jr., WB/BW/BOS – 1 pt
(BB CH Parisans Helo of RiverRidge)
07/03/2011 Mt. Bachelor Kennel Club, Redmond, OR.
Mrs Sharon K Weston, WB – 1 pt
08/06/2011 Coos Kennel Club, Bandon, OR
Mrs Paula Hartinger – W/BW – 1pt
08/07/2011 Coos Kennel Club, Bandon, OR
Mrs Rosemary W Leist – W/OS – 1 pt
(BB CH Parisans Helo of RiverRidge)
02/26/2012 McKenzie Cascade Dog Fanciers, Roseburg, OR. –
Mrs Janet B Van Wormer, Open – 1st,W,WB,BOS – 1 pt
02/27/2012 McKenzie Cascade Dog Fanciers, Roseburg, OR –
Mr Carl E Gomes, Open – 1st,W,BOS – 1 pt
Canadian CKC:
06/29/2009 Nicola Valley Kennel Club, Merritt,BC –
Mr C Hunt – Winners (1pt)
10/05/2012 Fraser Valley Dog Fanciers,Cloverdale, BC
Dr Everett K Mincey, Open – w,WB,BOS – 3 pts
10/08/2012 Fraser Valley Dog Fanciers, Clovetdlae, BC
Ms Cheryl A Paterson, Open – 1,WB,BOS – 3 pts
– USA BRACE –
05/04/2012 Utah Valley Kennel Club, South Jordan, UT
Mrs Robert D Smith, Brace: 1,BBR,G1
05/05/2012 Intermountain Kennel Club, South Jordan, UT
Mr F M MacDonald, Brace: 1,BBR,G1
– CANADA BRACE –
09/22/2012 Mt Cheam Canine Assocation, Chilliwack, BC
David A Brown, BBr
10/05/2012 Fraser Valley Dog Fanciers, Cloverdale, BC
Dr E Mincey – BBr
10/06/2012 Rottweiler Club of Canada, Cloverdale, BC
Mr Gabriel Valdez-Valdes, Chia Cund, Columbia – BIS
10/06/2012 Fraser Valley Dog Fanciers, Cloverdale, BC
Mrs J Forsyth – BBr
Mr Gabriel Valdez-Valdes – Group 1,BIS
10/07/2012 Fraser Valley Dog Fanciers, Cloverdale, BC
Ms C Paterson – BBr
10/25/2012 Lower Mainland Dog Fanciers BC, Abbotsford, BC
Mr G Kostopoulos, BBrG
10/26/2012 Lower Mainland Dog Fanciers BC, Abbotsford, BC
Mr M Forte, BBrG