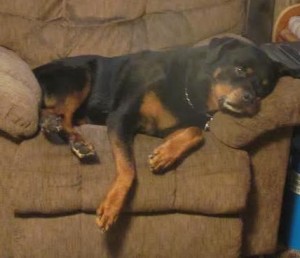 After "Bud" passed away from cancer, my mother and I decided we both needed a Rottweiler puppy to fill that void, thinking about showing and completely uneducated; we located a breeder in Washington and brought home two fluffy puppies.
Mother Unit choose the skinny wild child since I got the fat slow one. Since he was sneaky and would all of a sudden be next to you, she called him Kasper, as in Kasper the friendly ghost. Kasper fired himself for showing with a wild ear and just dislike of prancing around the ring. I tried to get his Rally Novice title at 11 for fun, but that dang limp got in the way and it killed the judges to excuse me. But he tried with all his heart and really had a blast, I am happy he had the opportunity to try.
He showed his brother Diago up by living to the ripe old age of 11 ½ (not that they were competitive). Kasper was diagnosed with osteosarcoma in his rear in an inoperable location. He was surrounded by the mother unit and father unit and his favorite vet (Dr. Crawford) when he crossed the bridge. He will forever be a part of our lives and will be truly missed. Mein has big shoes to fill and Moxy will be missing her soul mate (who else would put up with her).
He passed January 31, 2015.