When we purchased our first house in 2002, I was firm about getting a dog.  David tried to find a Miniature Schnauzer, similar to one of the dogs I had growing up, however could not find a breeder he was comforable with.  With the need for a fuzzy puppy to run the house, he took me to the Humane Society in Salem to pick out a puppy.  They had about six bouncing puppies and one was eager to come to me and was really cute.  I choose him….Sydney is supposedly a Australian Sheppard / Rottweiler Mix.
Sydney is the oldest dog in the house and runs the roost.  Sydney makes sure everyone is doing what is required of them and ensures they are compliant.  As the senior dog Sydney welcomes new puppies and teaches them what the house rules are, were the food is, and what door you need to sit by to go to the potty yard.  House protection is Sydney's primary job, and he does it quite well.
Sydney deserved and honorable mention and page of his own since he plays an integral role in the lives of each of our dogs and touches the hearts of those lucky enough to meet him.  While he was growing up the little white spot on his chest developed into a heart, so David always said the he holds my heart close to him.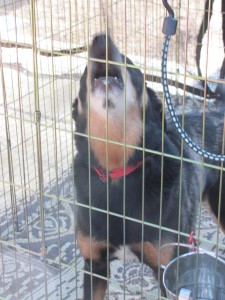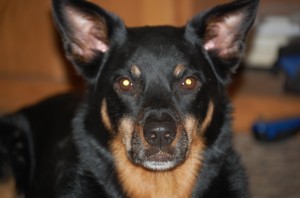 TOP DOG